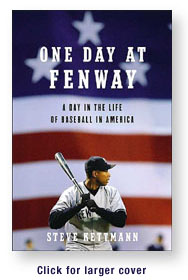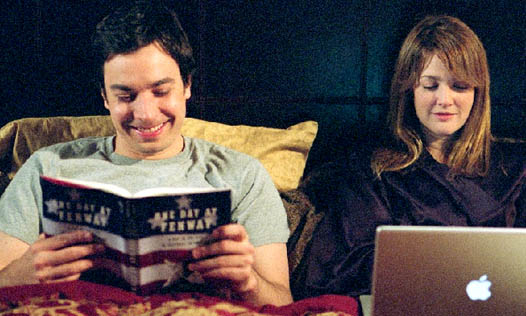 As featured in the Farrelly Brothers movie "Fever Pitch"
starring Jimmy Fallon and Drew Barrymore
---
About the Book
One Day at Fenway tells the story of a single game between the Red Sox and Yankees (last August 30) by following a wide cast of characters through the day, including Spike Lee, Peter Farrelly, former Senator George Mitchell, John Henry, Theo Epstein, the guy who works inside the Green Monster in left field, putting up scores by hand, a scout in the Dominican Republic, a high school coach in South Korea, players and fans and both managers, and various others. To get real-time quotes and visual details, I had more than a dozen reporters working for me that day, following people around and taking extensive notes (including one in Santo Domingo and one in Kwangju, South Korea), including Boston Globe Metro columnist Brian McGrory (who was with John Henry) and Samantha Power, author of the Pultizer-Prize-winning master work "A Problem From Hell", who shadowed Theo Epstein. I even had a reporter with Debi Little, wife of reviled manager Grady Little. It was a brash project (Roger Angell kept warning me beforehand: What if it turns out to be a bad game?), and Iíll be the first to say I lucked out. The game was interesting and suspenseful, and my reporters did a fine job of gathering priceless material, like the exchanges between Farrelly ("Thereís Something About Mary") and his young son, Bob, who was seeing Fenway for the first time. (On the way out, after the Yankees have pulled out the victory, Bob asks his father, "Dad, why do the Yankees always win?")
"Forget your brother-in-law and his good tickets. Forget the local Elks Lodge bus trip with the keg of beer in the back seat. Take this memorable trip to Fenway Park with Steve Kettmann and his many friends. For less than what you normally would pay to park, you get to sit in the good seats, the bad seats, the dugout itself. You talk with the players, the owners, the general managers, Spike Lee and those madcap Farrelly brothers.You squint and watch the action for a couple of innings through a hole in the scoreboard. All this and it's the Yankees and it's a hell of a game and... just start reading. You won't be disappointed. This is the ultimate Fenway experience."

— Leigh Montville, author of 'Ted Williams, The Biography of an American Hero.'
"I was blown away. Baseball books usually bore me, but Steve grabbed my attention with every page. When the Yankees and the Red Sox play, even as an opposing general manager I become a fan. Steve not only captured the intensity on the field but also the layers of interest that surround the greatest rivalry in sports. "

— Billy Beane, general manager, Oakland Aís
"Steve Kettmann's kaleidoscopic rendering of a single Yankees/ Red Sox game makes a fascinating narrative even for those who know little about the sport. With its cast of dozens of acutely interested characters, ONE DAY AT FENWAY is the BLACK HAWK DOWN of baseball."

— Madison Smartt Bel
"A fascinating dissection of a Red-Sox Yankees game. Steve Kettmann needs only nine innings to explain 100 years of a baseball rivalry."

— Dan Shaughnessy, author, "The Curse of the Bambino"
"No rivalry in sports as as intense as the Red Sox and Yankees, and no year in that rivalry was as intense as 2003. In A Day at Fenway, Steve Kettman has picked out the season's quintessential game and reconstructed it so vividly that you feel like you're right in the dugout with the players, hanging on every pitch. Whether you're a fan of good baseball or just good storytelling, this is a book you'll want to read."

— Jonathan Cohn, Senior Editor, The New Republic
"Itís good to know that the Yankeesí tiny general manager played some serious hardball in his day. Itís priceless to learn that the Red Soxí GM plays a mean guitar after midnight. And itís refreshing to discover that a single ballgame can be so gloriously revived. Perhaps it could only be at Fenway Park, with the terrified exhilaration of its patrons. But in bringing a year-old game to life, Steve Kettmann creates the kind of energy and suspense reserved for the here and now."

— Bruce Jenkins, San Francisco Chronicle
Steve Kettmann has reported from twenty countries on five continents for publications including the New York Times, the Los Angeles Times, the New Republic, the Washington Monthly, GQ and Wired.com. A former news reporter for New York Newsday, he was a San Francisco Chronicle sportswriter from 1990 to 1998, and moved to Berlin in 1999 as an Arthur F. Burns Fellow. He was a finalist for the 2001 Online Journalism Award in commentary for his writing in Salon.com on Bush and Europe. He lives in Brooklyn.